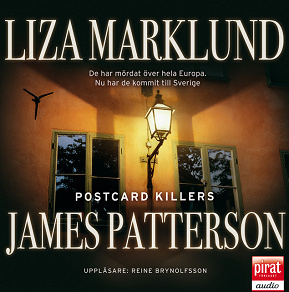 Isbn:
978-91-6423-254-0
Publisher:
Piratförlaget
Category:
Crime & Mystery
Accessible since:
May 2012
Narrator:
Reine Brynolfsson
Length: 7 hours 13 minutes
---
E-book
Postcard Killers
Medierna kallar dem The Postcard Killers. De är unga, vackra och välutbildade - och de skär halsen av unga människor över hela Europa. Eftersom de postar vykort till en journalist i varje stad där de dödat är rubriken given: The Postcard Killers har mördat igen.

Nu har de kommit till Stockholm. Det inser Dessie Larsson, journalist på tidningen Aftonposten, för hon har precis hittat deras kort i sitt postfack. Tillsammans med Jacob Kanon, mordutredare från New York, dras hon motvilligt in i våldsverkarnas vanvettiga värld. Jacob Kanon har varit mördarna hack i häl i ett halvår, och hans skäl är djupt personligt. Hans dotter Kimmy är ett av deras offer. Han har bara ett mål i livet: De ska jagas till helvetet fryser.

Jacob och Dessie befinner sig snart i en accelererande spiral av våld och död. Vilka är mördarna? Vad driver dem? Hur kan de stoppas? Till slut återstår bara en rasande kamp mot klockan - och tusen kilometer norrländsk asfalt...

Postcard Killers är ett unikt romanprojekt mellan svenska Liza Marklund och den amerikanske författaren James Patterson. Den är en internationell thriller i halsbrytande tempo och med rader av våldsamma vändpunkter.
Listen to sample
---