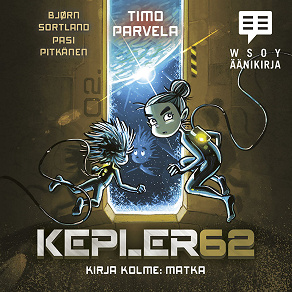 Kepler62 Kirja kolme: Matka
Be part of the story - lähde mukaan hurjaan avaruusseikkailuun!
Maapallon luonnonvarat ovat hupenemassa. Siksi Hallitus on päättänyt lähettää joukon lapsia kauas avaruuteen tutkimaan maapallon kaltaista planeettaa, jolla elämä olisi mahdollista. Kun nämä "uudisraivaajat" saapuvat Kepler-62e:lle, he joutuvat vaikeiden valintojen eteen - eikä kaikki ole siltä, miltä näyttää. Huikea kuusiosainen seikkailu vie lukijan jännittävälle matkalle tähtien taakse! Suosikkitekijöiden sarja kiihdyttää nyt poimunopeuteen! Kirja kolme: Matka
"On aika. Olkaa kunniaksi ihmiskunnalle." Vanha kenraali Livingstone hyvästelee joukon lapsia, jotka ovat lähdössä tuhoutuvalta maapallolta kauas avaruuteen etsimään uusia elämisen mahdollisuuksia. Sukkula vie heidät avaruusasemalle, jolla tähtipurjehtijat Santa María, Pina ja Niña odottavat matkalaisiaan. Ari pitää huolta pikkuveljestään Jonista ja epäilee, että lähtijöille ei ole kerrottu aivan kaikkea tulevasta tehtävästä. Edessä on matka tuntemattomaan.
Timo Parvela ja norjalainen Bjørn Sortland ovat yhdessä kuvittaja Pasi Pitkäsen kanssa luoneet valloittavan tarinan, jossa ystävyys punnitaan keskellä ääretöntä avaruutta. Kirjat ilmestyvät samanaikaisesti Suomessa ja Norjassa.
Listen to sample
---