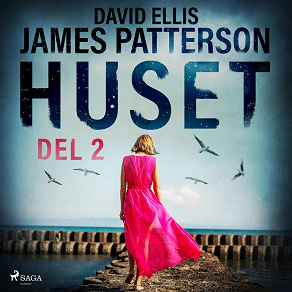 Isbn:
978-87-2624-076-4
Publisher:
Saga Egmont
Category:
Crime & Mystery
Accessible since:
June 2019
Narrator:
Anna Godenius
Length: 2 hours 32 minutes
---
Huset del 2
The Hamptons utanför New York är en av världens vackrast belägna platser, men mitt i idyllen ligger ett gammalt hus som kallas för Mordhuset. Det är en plats som har ett fruktansvärt förgånget. Flera ouppklarade mord har inträffat där, och nu när ytterligare ett dubbelmord begås där dras New York-polisen Jenna Murphy in i fallet.
Jenna är tillbaka i The Hamptons, och stadens förflutna börjar långsamt nystas upp. Mordet på hennes farbror som aldrig blev uppklarat har på något sätt med det nya dubbelmordet att göra, men Jenna lyckas inte förstå hur allt hänger ihop. Och samtidigt som hon nystar i det förgångna börjar en mörk, ondskefull kraft vakna till liv i hennes närhet ...

James Petterson är världens bäst säljande författare just nu. Han är känd för sina komplexa intriger och halsbrytande spänningsscener. 
Listen to sample
---