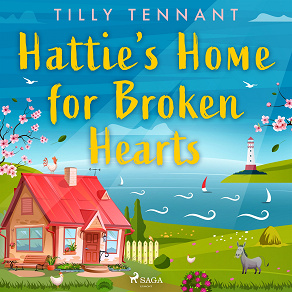 Hattie's Home for Broken Hearts
Escape to the daisy-strewn windswept Dorset cliffs, to the donkey sanctuary at Sweet Briar Farm, where Hattie Rose is about to find, that in this world, the most unlikely opposites can sometimes attract ...

Hattie was once thrilled to call the beautiful city of Paris her home. But when her heart is broken by her boyfriend and she loses her dream job, she bids farewell to the city of love and hurries home to Gillypuddle, a sleepy village on the Dorset coast. But as she returns home she finds her parents struggling to cope with a terrible family tragedy.

In a desperate search for a new start, Hattie takes a job at the donkey sanctuary nearby on Sweet Briar Farm where Jo, the taciturn owner, certainly loves her animals far more than she does humans. Hattie can't help but fall in love with the donkeys (and the opportunity to get close to dreamy Canadian vet Seth) but Jo is harder to crack and when she finds her boss sobbing in her sleep one stormy night, Hattie knows that her new friend is hiding a dark secret.

When handsome newspaper reporter Owen does some digging into Jo's past he finds something that connects her to Hattie on a whole new level. Can Hattie trust what Owen says, especially when he seems intent on standing in the way of her blossoming romance with Seth?

A beautiful story that will melt the hardest of hearts. If you love Jenny Colgan, Lucy Diamond and Josie Silver you will be enchanted by this life-affirming read that reminds you that home is wherever the people you love are.

Everyone loves Hattie's Home for Broken Hearts:

'This is a story that will melt even the hardest of hearts, it is perfect for lovers of Jenny Colgan books. I will definitely be reading more by this author.' Little Miss Book Lover

'I love Tilly's books, and this one was a real pleasure to read... Great storyline, and a warm, captivating read.' Goodreads Reviewer , Five stars

'The perfect heartwarming read for the summer. This story is about loss, love, and second chances. I couldn't help feeling like the grinch whose heart grew several sizes while reading this wonderful story.' The Reading Chemist

'Another fabulous story from Tilly. A fantastic summer read with the feel- good factor. Enough to almost draw tears but then break out in a big smile. Wonderful.' Goodreads reviewer, 5 stars

'This is a unique story that I enjoyed reading. A donkey sanctuary was a wonderful addition to the story of Jo and a few love interests as well. I am a fan of Tilly Tennant and have read many of her books, and this one was at the top of my list. For me, definitely a 5 star review. ' Goodreads reviewer, 5 stars

Top 20 Amazon CA and top 30 Amazon UK author. Tilly has sold over 280,000 copies

For fans of Jenny Colgan, Lucy Diamond and Josie Silver

From a young age, Tilly Tennant was convinced that she was destined for the stage. Once she realised she wasn't very good at anything that would put her on the stage, she started to write stories instead. There were lots of terrible ones, like The Pet Rescue Gang (aged eight), which definitely should not see the light of day ever again. Thankfully, her debut novel, Hopelessly Devoted to Holden Finn was not one of those, and since it hit the Amazon best seller lists she hasn't looked back. Born in Dorset, she currently lives in Staffordshire.
Listen to sample
---