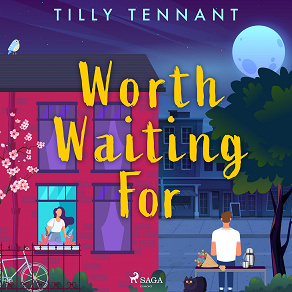 Worth Waiting For
On an ordinary, grey day a little bit of magic is about to happen on a street corner near you...

At twenty-seven, Ellie Newton's life revolves around telling other people's stories. As a go-getting journalist for the Millrise Echo, she's always tuned into the latest goings-on. But covering school fundraisers and shopping trolley thefts has started to lose its shine. Ellie loves her hometown, but with the serious lack of romantic prospects and a career that has stalled, she's beginning to wonder if she should try her luck in the big city after all. Until she hears about a story that definitely has something special...

Soulful musician Ben was heartbroken when his girlfriend, the love of his life, Gemma, walked out on him without a word. But rather than mope around the house he's decided this calls for a grand gesture, and a bunch of flowers just isn't going to cut it. Ben has set up camp on Gemma's street and is determined to stay there, in the freezing February weather, until she realises how much he loves her and that he will do anything to make her happy.

The story has everything Ellie loves – broken hearts, old-fashioned romance, a rather handsome man – and she decides to do everything she can to help Ben get Gemma back, including taking his story to the national news. But as Ellie and Ben join forces to reunite him with the girl of his dreams, could their story lead them somewhere more unexpected?

A perfect feel-good romantic read that will make you laugh and cry. Fans of One Day in December, Lucy Diamond and Jill Mansell will be totally enchanted by this heart-warming tale.

Previously published as The Man Who Can't Be Moved.

Readers love Worth Waiting For:

'This was by far Tilly's best novel yet!... Very entertaining... Full of heart and imagination... The perfect read for the hopeless romantic.' Goodreads Reviewer

'I've heard many great things about Tilly Tennant's writing and I was so pleased to discover they are all true.' Goodreads Reviewer

'If you're looking for a wonderfully sweet love story then look no further, this is one of my favourite reads for a while.' Goodreads Reviewer

'Once I started reading, I simply couldn't stop... Had me laughing, crying and swooning over that cute guy waiting on the corner for the girl of his dreams. I loved everything about this book and I cannot recommend it enough.' M's Bookshelf

'Captivating... Lovely story that dreams are made of. Brilliant writing and great use of characters.' Goodreads Reviewer


Top 20 Amazon CA and top 30 Amazon UK author. Tilly has sold over 290,000 copies

For fans of Jenny Colgan, Lucy Diamond and Josie Silver

From a young age, Tilly Tennant was convinced that she was destined for the stage. Once she realised she wasn't actually very good at anything that would put her on the stage, she started to write stories instead. There were lots of terrible ones, like The Pet Rescue Gang (aged eight), which definitely should not see the light of day ever again. Thankfully, her debut novel, Hopelessly Devoted to Holden Finn was not one of those, and since it hit the Amazon bestseller lists she hasn't looked back. Born in Dorset, she currently lives in Staffordshire.
Listen to sample
---