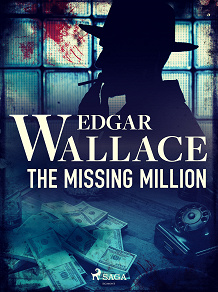 The Missing Million
A handsome young man goes missing the night before his wedding-day, along with one million pounds. Detective James Sepping is assigned to the case, assisted by the intrepid Joan Walton, they will soon begin to uncover a trail of bodies leading to a sinister truth. They will tangle with the 'Prince of Blackmailers', the king of the criminal underworld in their search for the truth and a whole cast of brilliantly developed characters in this detective caper.

Typical of Wallace, 'The Missing Million' is fast paced and engaging right till the explosive end., This book is perfect for anyone who loves the mystery of 'Sherlock'.

Edgar Wallace (1875-1932) was an English writer, poet and journalist. He was such a prolific writer that his publisher claimed his work could account for a quarter of all books sold in England. He wrote countless books, screenplays, poems and historical non-fiction, spawning over one hundred and sixty films based on his work. He unfortunately passed away suddenly before he could see his most famous creation 'King Kong' come to life. It has been adapted several times over the years, notably by Peter Jackson of Lord of the Rings fame, and more recently in 'Godzilla vs Kong' starring Millie Bobby Brown.
---