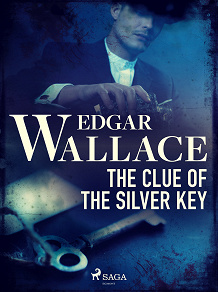 The Clue of the Silver Key
This police thriller opens with Scotland Yard Detective Surefoot Smith as he is called to a strange murder scene. Tom Tickler, a well-known petty thief has been brutally murdered, his corpse left in an abandoned taxi with a huge sum of money in his pockets. This sets Surefoot on a path that will take his investigation to the very top of British society and he will have to risk everything to get his man. The bodies continue to pile up in this mystifying thriller with an ever growing list of suspects. The plot is masterfully weaved to betray the reader at every turn creating an exhilarating and heartily enjoyable read for anyone who loves 'Bosch' or 'Sherlock'.

Edgar Wallace (1875-1932) was an English writer, poet and journalist. He was such a prolific writer that his publisher claimed his work could account for a quarter of all books sold in England. He wrote countless books, screenplays, poems and historical non-fiction, spawning over one hundred and sixty films based on his work. He unfortunately passed away suddenly before he could see his most famous creation 'King Kong' come to life. It has been adapted several times over the years, notably by Peter Jackson of Lord of the Rings fame, and more recently in 'Godzilla vs Kong' starring Millie Bobby Brown.
---