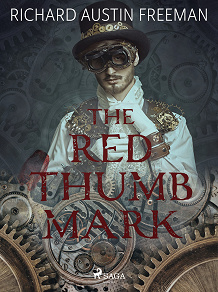 The Red Thumb Mark
'The Red Thumb Mark' is the first in the absorbing and original Dr. Thorndyke series. Thorndyke is a Sherlock Holmes inspired forensic detective employed as a proactive expert witness. He uses the available science and technology of his era to determine and demonstrate how and when certain crimes were perpetrated.

Thorndyke is called to the scene when the nephew of a jeweller is accused of stealing diamonds from his uncle's safe. His bloody thumbprint was found on a slip of paper inside the empty safe. But Thorndyke is convinced of the man's innocence. He resolves to compile a case for the defense based on his scientific investigation. But Thorndyke may have waded into unexpectedly deep waters when attempts are made on his life.

A compelling and fascinating detective novel with a decidedly steampunk atmosphere for the present-day reader. Highly recommended for enthusiasts of Conan Doyle's 'Sherlock Holmes' novels as well as the popular 2010 TV series 'Sherlock' starring Benedict Cumberbatch and Martin Freeman. Fans of the 'CSI: Crime Scene Investigation' series will also be intrigued by the life and ways of literature's first forensic detective.

R Austin Freeman (1862-1943) was an English doctor. He created the first and best-known forensic scientist, Dr John Thorndyke. Freeman was born in London, the son of a tailor. He took a medical degree from Middlesex Hospital Medical College. He married Annie Elizabeth Edwards in 1887 and had two sons. He travelled to the Gold Coast of Africa for work, but after seven years was invalided out. He returned to England unable to work in medicine and began writing fiction in 1902. There followed a long series of Dr Thorndyke mysteries, including some of the first 'inverted' mystery stories, where the identity of the criminal is revealed at the outset and the interest of the story lies in seeing how the detection is done.
---