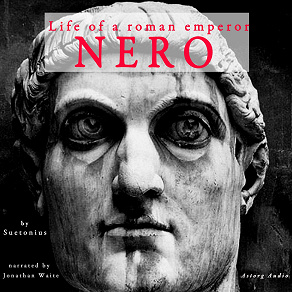 Isbn:
978-28-2110-676-5
Publisher:
Saga Egmont
Category:
Memoirs & Biography
Accessible since:
December 2022
Narrator:
Jonathan Waite
Length: 1 hour 35 minutes
---
Nero, Life of a Roman Emperor
Suetonius' most important surviving work is known as the De Vita Caesarum, a set of twelve biographies of the successive Roman rulers. The emperor Nero's reign is one weird tale of sexual depravity and extravagant sadism. He was a gifted musician, and is said to have given great concerts of which attendance was compulsory; women were said to have given birth during the performance, and men were driven to fake death to escape. Nero kicked his pregnant wife to death and then had a young boy castrated to replace her as his spouse; then, during the great fire of Rome, he is said to have played the lyre to emphasize the beauty of the destruction. His eccentricities are a continuation of the tradition of his predecessors, only more perverted; Suetonius' account portray a strange man in strange times.




Listen to sample
---