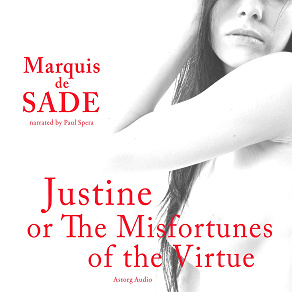 Isbn:
978-28-2110-809-7
Publisher:
Saga Egmont
Category:
Erotic
Accessible since:
December 2022
Narrator:
Paul Spera
Length: 2 hours 11 minutes
---
Justine, or The Misfortunes of Virtue
Justine, or The Misfortunes of Virtue, is an early work by the Marquis de Sade. It is a novella, written in two weeks while he was imprisoned in the Bastille. Unlike some of his other works, it is not just a catalogue of sadism. It is meant to bring new life to an old genre, which had the reader accustomed to see virtue eventually triumph after trials only meant to bring out its value. Sade would have none of that in Justine: in her quest for virtue, the main character keeps falling into terrible situations, which humiliate her and present her with sexual lessons hidden under the mask of virtue. She seeks refuge and confession in a monastery, only to discover the monks are perverts and to be forced to become their sex-slave; she tries to help a gentleman getting robbed in a field, but he eventually imprisons her in his dungeon, subjugating her to various sexual punishments... All of this is narrated by Justine herself, on her way to the gallocks. Napoleon Bonaparte ordered the arrest of the anonymous author of Justine and Juliette, and as a result Sade was incarcerated for the last 13 years of his life. The book's destruction was ordered by the Cour Royale de Paris on May 19, 1815.




Listen to sample
---