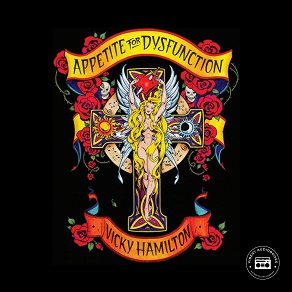 Isbn:
978-91-8975-647-2
Publisher:
Vibery Audiobooks
Category:
Memoirs & Biography
Accessible since:
January 2023
Narrator:
Vicky L Hamilton
Length: 12 hours 48 minutes
---
Appetite For Dysfunction
Vicky Hamilton became the top female record company executive and personal band manager. Only to reach her aspirations while working with Guns N' Roses, to then take on the most coveted A&R position to date at Geffen Records, under David Geffen himself. It was common knowledge, that while David Geffen was relaxing at his Malibu beach house, Hamilton was busy scouring dark clubs for talent. Doing the kind of legwork many larger record labels had gotten away from.

Appetite For Dysfunction is the first time Vicky candidly speaks out about the life she lived on the front lines, deep in the heartless world of the music business. Hamilton brings to this book her unbiased observations and shrewd glimpses about who these rock stars and executives are at the core of their beings, and about herself, as well. She expresses her gratitude for her historic past and her accomplishments, as well as her own shortcomings along the way. She shares her victories, her mistakes, the horror stories, and her dark comedic approach to "making it" in the entertainment business. Even while getting her heart broken on many occasions, leading to some cataclysmic breakdowns, Vicky battles to hang on to her integrity. Painfully taking the highroad, as she loses her job at Capitol Records, while facing eviction and a phone that suddenly stopped ringing, Vicky holds her head high, humbly reinvents herself, and literally, goes on with the show.

One of the many highlights of this book is when Vicky produced and released June Carter-Cash's record, Press On>. Hamilton was so determined to get June a record deal that, when no one else wanted to make a record with June, Vicky started her own label, Small Hairy Dog. Through her relationship with Carter-Cash, while making Press On>, Vicky found herself trusting her own faith and intuition and began questioning her personal lifestyle choices and stopped looking outside of herself for happiness. No longer coming from a place of fear, Vicky finds sobriety and a new perspective on life. Vicky's persistence and shift of faith paid off when June's record won a Grammy.

Appetite For Dysfunction is a self-exploratory journey through Vicky's life. A small town girl who risks everything by dropping out of art school, leaving behind the safety of loved ones and small town values, and making her way to Hollywood. When Vicky arrived, she landed a job as a mere record store clerk, to then miraculously find herself deep in the trenches of an unscrupulous, male dominated, music entertainment business, and blossomed into Hollywood's most controversial A&R woman and band manager.
Listen to sample
---