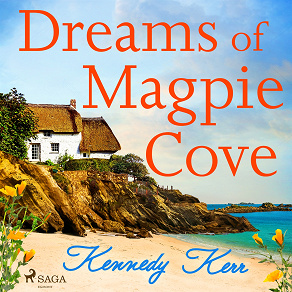 Isbn:
978-87-2852-946-1
Publisher:
Saga Egmont
Category:
Romance
Accessible since:
January 2023
Narrator:
Katie Villa
Length: 6 hours 27 minutes
---
Dreams of Magpie Cove

Ellie McTavish's world turns upside down when a deadly diagnosis comes out of nowhere. Feeling adrift as she recovers from life-saving surgery at home, she impulsively bids on a vintage caravan, only to discover the next day that she's won it. So she grabs her friend Fee and takes it on an impromptu road trip...well, that's the plan, until it breaks down outside the tiny village of Magpie Cove in Cornwall.

Unexpectedly stranded, the two women don't have much choice but to stay there until it's fixed. At least the local mechanic, Mark, is distractingly handsome. Not that Ellie would ever act on her feelings – after the surgery she's not sure she'll ever feel beautiful again. If only she'd stop running into him everywhere in town...

As Ellie settles into life in the cove she can feel herself slowly healing. But just as she begins to let herself grow closer to Mark, a midnight attack on her rented beach house once more puts Ellie's fragile courage to the test. Sometimes the deepest scars are on the inside – will Magpie Cove be able to mend Ellie once and for all?

A perfect, feel-good page-turner about friendship, love and the power of starting over, set in gorgeous Cornwall. Perfect for fans of Shari Low, Veronica Henry and Heidi Swain.




Kennedy Kerr is a USA Today Bestselling fiction author. She adores beaches, lochs and stone circles, and loves writing about small communities, mysteries and family secrets.
Listen to sample
---